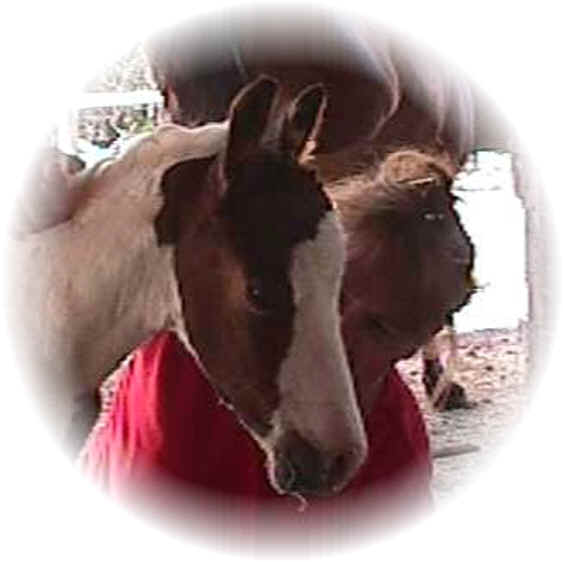 Georjus Sitar of Bethlehem
Kajons Georjus x Norsk's Star of Fame
My page is dedicated to one little filly who lived a lifetime in 3 days. In those three days she brought a good friend,
distant to the Lord for many years upon her knees praying to the Lord.
Not for her own desires, but for that of Life of one small filly...
"Georjus Star of Bethlehem"! She was a woman
without a hope of having children. It was during this time that she became pregnant.
She is, now, a proud mama of a beautiful little girl of her own!
It just takes an open line of Faith, Trust and Believing in the almighty powers of our Lord and Savior Jesus Christ.
The Lord tells us that if He takes you to it, He will take you through it....
I spent 3 days at 3 different veterinary facilities, on the 3rd day I saw Bethany's vision in the glass door of a friends home,
as if her telling me she was going home, her work was done. I went back to the barn, Miss Bethany had stood up!
My good friend arrived from Dallas, and told me she had
been praying for Bethany. She had driven all the way from Dallas, to help me get her to another care facility.
I would say she was the first of many miracles I have seen with the horses. Some people live a lifetime and
never bring another to the Lord. She with the Lord's intervention only needed 3 days!
Her work was done. "It is finished " said the Lord. I brought her home from the Las Colinas
Veterinary Center, buried her under the old oak tree, never to forget the Lord's "Georjus Star of Bethlehem"
But oh so much more than her presence, the Lord's victory through her.
I pray Lord give me the words to write and the ears to hear.
Lord, give me wisdom to tell all about you, our Lord and Savior Jesus Christ,
by you and with you all things are possible.
More to come soon!
The Lord's messages through the miracles of birth, the story of recovery, the hope of tomorrow,
the happiness of faith, the conviction of the Lord, the power to survive, and the will to come home
involving Winter White Chocolate, Anointed, The Lord's Majestic Ring of Faith, The Lord's Disciple,
Graced By His Glory, The Lord's Blessed Star of Wonder, Sunday Sermon, Colortown, and
Color Me Faithful Lord, Oh Color Me Faithful!
Alan and Sharyn Broughton
5165 Veal Station Road
Weatherford, TX.
76085
Barn: 817-706-6063 Fax: 817- 677-5818
Email: dbmsc@aol.com

Our Horses are bred, raised and shown "All for The GLORY Of The LORD"
All proceeds from their breeding will be used to further HIS WORD.
Thank You for your consideration and May God richly Bless Your Life.

Jesus said, "Thou shalt Love thy God with all thy heart, and with all
thy soul, and with all thy mind. This is the first and great commandment"
Matthew 22:37-38
Copyright © 2001-2006 Circle C Saddlebreds All Rights Reserved